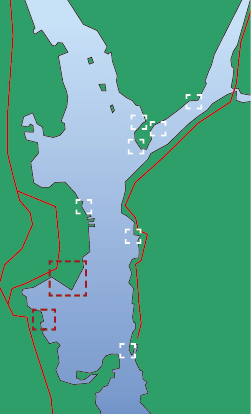 ISPS area
The port authority's ISPS facility is marked in red and private ISPS facilities are marked in white in the map.
There is limited access to ISPS facilities, so access must be pre-arranged.
The port security officer, PFSO, can be contacted on telephone 51 46 11 90 or by e-mail post@nvc.no.
The ISPS terminal in Kaupanes consists of 4 docks, ranging from 44 – 140 meters with depth ratios of approx. 9 meters. RO / RO ramp is also available, with a depth of 9 meters. The capacity of outdoor storage area is in total  9000 m2. Electrical and water supply available. The area has its own connection to Hovland Terminal.
Hovland terminal consists of a RO / RO dock with a length of 160 meters and a depth of 9 meters.
The Kongstein dock consists of two quays, length 71 and 66 meters, depth ratio 4.4-6.6 meters. On the site, a new 72-meter dock will be built, which will mainly be used to unload timber, but could also be used for other purposes, eg. for unloading asphalt and sand.
"Dampskipskaien" is a pier that has length of 245 metersand depth 4.4 – 8.7 meters.
"Tyskerbrua" has a length of 115 meters and depth of 4-6 meters.
<iframe name="embedMap" title="Adaptive EmbedMap" scrolling="no" frameborder="0" width="800px" height="400px" src="https://kystinfo.no/embedded/588af220-5f4f-492a-adeb-0a5361ed0ae4" ></iframe>